We are:
Artists
Writers
Graphic Designers
Baseball fans
Tech gurus
Financial experts
Musicians
Laughers
Mom's and Dad's
Singles, couples and families
Long-distance bicycle riders
Gardeners
Change Makers
Dance party fans
Cooks
Storytellers
Game enthusiasts
Joy finders
Readers
Pet owners
Activists
Advocates
Pizza eaters
Bookkeepers
Cocktail shakers
Godmothers
Cider makers
Beer enthusiasts
Music lovers
Sour dough bakers
Movie enthusiasts
Superheroes!
Our Neighbors – check back often for more as we continue to grow!
Adara Morgan
Adara Morgan currently lives on a farm in Ridgefield, WA with her parents, Abby and David, and her brother Corwin. As adulthood fast approaches, she and her parents are excited about the idea of a home for her in the city, where she can revel in her extrovert nature, navigate the city, and be an integral part of a supported community. She loves to dance, listen to music, watch movies and read books. She loves little more than a good party, and is a fabulous hostess.  
Abby and David are intimately involved in the Our Home Project, David on the business end and Abby in marketing and communication. Though more attached to the rural way of life than Adara is, and don't see themselves moving into the city any time soon, they believe deeply in the value of a strong, interdependent community and will be regular attendees at our community meetings, shared meals, and events and are excited to be a part of the extended Our Home Cathedral Park family. Ridgefield is just forty minutes from the Cathedral Park neighborhood, and they are open to swapping nights in their country home with views of eagles and sandhill cranes for a night in the city every now and again! Corwin is excited to think with us all about what makes a community, and how everyone's contributions can be honored in a diverse neighborhood. He would be happy to join the community for game nights and other events.

Alicia DeLashmutt and Neva Sincick
Founding Neighbor and Board President, Our Home, ICC and Founder of Oregon nonprofit, Our Home, Inclusive Community Collaborative, Alicia has over 18 years of community involvement as a disability inclusion and housing advocate and is the proud mother of Neva, who is a strong influence in Alicia's mission to promote inclusive life opportunities to families and individuals who also experience disability.
A 2017 graduate from the Institute on Development and Disability Leadership in Neurodevelopmental and Related Disabilities (LEND) program through Oregon Health Sciences University and 2007 graduate of Oregon Partners in Policy Making, she is a member of the Oregon Developmental Disabilities Coalition and acts as an advisor to the Oregon Pediatric Improvement Program. She has made numerous national presentations as a strong advocate for inclusive communities, education and life.
Previously, with a professional background in landscape and commercial interior design, Alicia was the Director of Interior Design for Sienna Architecture, and founder of Grasshopper Garden Design, an independent landscape design firm. Currently Alicia is an active advocate and parent mentor who believes that the inclusion of ALL, regardless of race, color, national origin, sexual orientation, religion, age, disability or gender identity is necessary for a vibrant and healthy community.
Neva is a very present, adaptable, and strong-willed young woman whose diverse interests include baseball, Fritos and opera. While not a communicator with verbal language, Neva has a lot to share with and give to the larger community around her. Neva has a love for delicious food, the outdoors, excitement, and music. Neva looks forward to hosting Friday night pizza and dance parties in the community room and will bring a jumbo bag of Fritos to share to any televised or live sporting event that she is invited to share in.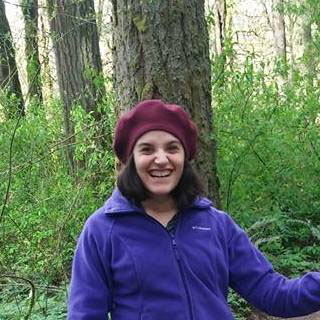 Marie Blanchard
Hi, my name is Marie Blanchard. I was born and have always lived in Portland, Oregon.
I have been enjoying doing art my whole life. I create ceramic magnets, wall hangings, and clay animal tiles, all glazed with bright colors. I also paint, mostly animals, and create greeting cards and mugs from my paintings.
At birth I was born with a difference. That difference is Cerebral Palsy. That means that at birth I did not get enough oxygen to the brain. I just move a little bit differently. The unique thing about me is I have CP and lead a full and active life. I like who I am with CP.
I like to go hiking in nature, go horseback riding, and talk to and hang out with my best friend. I also like writing, playing on my iPad, going out to eat.
I am very excited to live in the Our Home cohousing community where 25% of the units will be owned by people with a disability. My plan is to live on my own; I just need a tiny bit of support in my life.

Megan and Xavier
We are a mother-son team who are native to Portland, Oregon and currently residing in NE Portland. We're very excited to be a part of the Our Home Project and see immense value of such a community to help support Xavier's future as an independent adult who also experiences autism. We look forward to helping build a diverse community, rooted in respect and inclusion is a dream that will become reality with Our Home Inclusive Community Collaborative.
Megan is first and foremost a proud mother and advocate for autism awareness. A 2016 graduate of Portland State University and currently works in HR and Finance for Wieden+Kennedy. She is also a co-owner of a small business handcrafting elderberry products – roserootpdx.com. With a passion for diversity, inclusion, health and wellness she wants apply those passions to cohousing.
Xavier is an awesome, friendly, and intelligent young man who is incredibly knowledgeable and talented when it comes to music, audio engineering and music production. He enjoys his free time as a part time Youtuber, practicing voice acting, playing bass and video games especially animal crossing and more recently contributing his perspective to community projects.