We are Growing!
Meet our Members – come join us!
Francine C.
Originally from Brooklyn, NYC I've enjoyed 17 years in the San Francisco East Bay near beautiful redwoods.  I am a retired pediatric Occupational Therapist. Other careers – I was a Buyer of mechanical equipment (parts for NYC subway cars and  Lifesavers candy conveyors), then bought food and beverage for the dining services at Columbia University. In a different career I recruited technology professionals in Fortune 100 corporations in Manhattan.
I enjoy biking, dancing, music, museums, photography, meditation, silence in nature, chanting, self-development workshops, organic vegetables, clean air and water, addressing homelessness. Likely I could lead a yoga class. I like teamwork where in the end we see how the whole became greater than the parts.  In my experience, working and sharing with intention builds trust, skills, lightens the load, deepens friendships, and teaches tolerance.  For OHCP cohousing, I like that members with diverse expressions might offer support, kindness and camaraderie through life's challenges. I would enjoy sharing in Qi Gong, yoga, meditation, Alexander Technique, tapping, cultural traditions, art, gardening, hiking, reading out loud, and getting to know Portland.  Maybe someone has a trampoline?
Colleen N. (photo coming soon!)
I am a retired Lutheran pastor, having served congregations in La Grande, Battle Creek, Michigan and Chicago, Illinois.  I grew up in Illinois along the Mississippi and in central Iowa.  I've lived in Oregon for eight years.  Before entering ministry, I was a professional flutist and stay-at-home mom.  I have three children with spouses and six grandchildren.  My daughter lives in Portland, my oldest son lives in Issaquah, Washington and my youngest son lives in Chicago.  In addition to general ministry skills, I am qualified to do individual spiritual direction and lead spiritual practices.  I also have training in community organizing.  I have a passion for social justice issues, including LGBTQIA rights, climate change, anti-racism and healthcare for all. I love to be outdoors – walking, hiking, camping and traveling to interesting places. I make music by playing my flute in ensembles and enjoy attending concerts and live theater.  
Rebecca H.
I grew up in Detroit but have lived in the SF Bay Area the last 40 years. I raised 2 daughters, now in their mid & late 20's. One lives in Rhode Island, the other In Colorado. So it's just me joining Our Home.
I've long been interested in cohousing, appreciating the intentional aspect of living with shared values and principals as well as the balance of both private and communal space. There are so many appliances, devices, tools, etc that we may use only occasionally. I am excited about the many opportunities to share 'stuff' as well as food, friendship, problem solving and so much more in a genuine community of diverse humans.
I have done a variety of work, starting in women's health, support/education in several cancer organizations, a stint at a library software company and, in the last years, the housing arena. A unifying theme has always been advocacy, connecting people to information and resources, trying to remove barriers to any problems, challenges or goals. I speak Spanish, some French and a little bit of Portuguese.
A few things I love are farmers markets, tasty food made from local, seasonal bounty, books, music, movies, podcasts, nature and hanging out with loved ones.I get around as much as possible on foot, bike or bus. I try to live as simply as possible, especially in this time of climate crisis. I am invested in seeing that Our Home is built with that in mind, prioritizing green practices and sustainability as much as possible so it can safely house neighbors through cold, heat and whatever else lies ahead.
My closest friend lives in Portland and I've visited many times over the decades. So it's fortuitous to have found Our Home, a vibrant cohousing community, as I think about my next life and housing chapter.

Alicia D. and Neva S.
Hi! I'm Alicia and this is my daughter, Neva. Originally from Iowa, I've been in Oregon since 1990 and in Portland almost that entire time. I have found my people and 'home' here. I'm the Founder and Board President of Oregon nonprofit, Our Home, ICC and one of the Founding members of Our Home – Cathedral Park cohousing. For the last 19 years I've been involved in the community as a disability inclusion and housing advocate and am the unabashedly proud mom of almost 20 year old Neva. My daughter is a strong influence in my personal mission to promote inclusive life opportunities for families and individuals who experience disability.
I'm a 2017 graduate from the Institute on Development and Disability Leadership in Neurodevelopmental and Related Disabilities (LEND) program through Oregon Health Sciences University and 2007 graduate of Oregon Partners in Policy Making. I'm a member of the Oregon Developmental Disabilities Coalition and act as an advisor to the Oregon Pediatric Improvement Program. Though a secretly shy person, I've been lucky to have made numerous national presentations as an advocate for inclusive communities, education and life.
I have a professional background in landscape and commercial interior design, and back in the 90's was the Director of Interior Design for Sienna Architecture, and founder of Grasshopper Garden Design, an independent landscape design firm. At my core I believe that the inclusion of ALL, regardless of race, color, national origin, sexual orientation, religion, age, disability or gender identity is necessary for a vibrant and healthy community.
I also love to ride my bicycle long distances, surround myself with beautiful things (art, music, or nature), and eat, drink, and be merry with friends.
Neva is a very present, adaptable, and strong-willed young woman whose diverse interests include baseball, Fritos and opera. While not a communicator with verbal language, Neva has a lot to share with and give to the larger community around her. Neva has a love for delicious food, the outdoors, excitement, and music and looks forward to hosting Friday night pizza and dance parties in the community room. She'll gladly bring a jumbo bag of Fritos for all to share to any televised or live sporting event that she is invited to share in.
We both look forward to living in a community that learns, laughs, and cares together!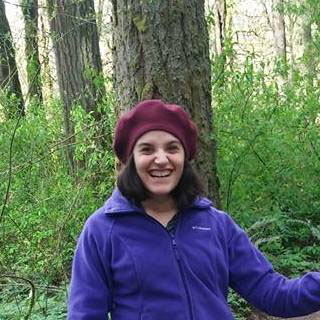 Marie B.
Hi, my name is Marie. I was born and have always lived in Portland, Oregon.
I have been enjoying doing art my whole life. I create ceramic magnets, wall hangings, and clay animal tiles, all glazed with bright colors. I also paint, mostly animals, and create greeting cards and mugs from my paintings.
At birth I was born with a difference. That difference is Cerebral Palsy. That means that at birth I did not get enough oxygen to the brain. I just move a little bit differently. The unique thing about me is I have CP and lead a full and active life. I like who I am with CP.
I like to go hiking in nature, go horseback riding, and talk to and hang out with my best friend. I also like writing, playing on my iPad, going out to eat.
I am very excited to live in the Our Home cohousing community where 25% of the units will be owned by people with a disability. My plan is to live on my own; I just need a tiny bit of support in my life.

Megan D. and Xavier
We are a mother-son team who are native to Portland, Oregon and currently residing in NE Portland. We're very excited to be a part of the Our Home Project and see immense value of such a community to help support Xavier's future as an independent adult who also experiences autism. We look forward to helping build a diverse community, rooted in respect and inclusion is a dream that will become reality with Our Home Inclusive Community Collaborative.
Megan is first and foremost a proud mother and advocate for autism awareness. A 2016 graduate of Portland State University and currently works in HR and Finance for Wieden+Kennedy. She is also a co-owner of a small business handcrafting elderberry products – roserootpdx.com. With a passion for diversity, inclusion, health and wellness she wants apply those passions to cohousing.
Xavier is an awesome, friendly, and intelligent young man who is incredibly knowledgeable and talented when it comes to music, audio engineering and music production. He enjoys his free time as a part time Youtuber, practicing voice acting, playing bass and video games especially animal crossing and more recently contributing his perspective to community projects.
Adara M. (Abby, David, and Corwin)
Adara currently lives on a farm in Ridgefield, WA with her parents, Abby and David, and her brother Corwin. As adulthood fast approaches, she and her parents are excited about the idea of a home for her in the city, where she can revel in her extrovert nature, navigate the city, and be an integral part of a supported community. She loves to dance, listen to music, watch movies and read books. She loves little more than a good party, and is a fabulous hostess.  
Abby and David are intimately involved in the Our Home Project, David on the business end and Abby in marketing and communication. Though more attached to the rural way of life than Adara is, and don't see themselves moving into the city any time soon, they believe deeply in the value of a strong, interdependent community and will be regular attendees at our community meetings, shared meals, and events and are excited to be a part of the extended Our Home Cathedral Park family. Ridgefield is just forty minutes from the Cathedral Park neighborhood, and they are open to swapping nights in their country home with views of eagles and sandhill cranes for a night in the city every now and again! Corwin is excited to think with us all about what makes a community, and how everyone's contributions can be honored in a diverse neighborhood. He would be happy to join the community for game nights and other events.
Lindsey C.
"Hi!  I'm Lindsey.  My sisters Ali and Sara call me Linny. We spend a lot of time together, so you'll likely get to know them too, along with my mom, Debbie.  A little about me…. I was born in Honolulu, Hawaii, and lived there for 11 years.  I learned to swim like a fish when I was a year old and have loved it ever since. I have my black belt in karate, I love to hike, I walk about 7 miles/day, I love to make brownies and chocolate chip cookies, and I also am quite content watching Hallmark movies on my iPad. I had a great job at PCC in the Child Development Center before the pandemic, and as soon as the Center reopens I will be back there again. I love animals. Right now I have a dog and a cat, but also spend much time with my sister's dog who likes to hang out at our house. I volunteered at the Pixie Project walking dogs before the Pandemic. While living in Chicago I volunteered at a no-kill animal shelter called PAWS in their Kitty City, socializing cats. Four years ago my mom and I moved to Portland from Chicago, to live near my two older sisters. I was living with a roommate in Evanston, IL at the time, and hoped that once we were settled in Portland I could find a community living situation where I could live independently again. Because I am developmentally disabled it requires a little more effort to find just the right living environment. We learned about Our Home Cathedral Park and realized what a perfect community that would be. But since it was still in the early planning stages we put it aside as we looked for other possible options. Fast forward 4 years, to almost post-pandemic (fingers crossed), and again ready to look for a great place for me to live, we once again looked in on Our Home Cathedral Park. We found that it was in the advanced planning stages, ready to receive community members and eager to begin construction in about a year. We devoured all the information about the community, loved that its focus was on building a diverse community of neighbors who were interested in participating in regular activities of all varieties…together. We checked out the location and found it to be in a gorgeous little spot in St. Johns, and yes, right near Cathedral Park, and the iconic St. Johns Bridge. We walked from our favorite coffee spot in St Johns, down the hill to OHCP, over to Cathedral Park, back up the hill to the little town of St. Johns. We found all the bus stops, Pizza restaurants, cute shops, grocery, and the St. Johns Farmers Market. I can tell you that we could not have been more excited with what we experienced. After a number of conversations with other prospective members and the amazing team that has created this gorgeous, inclusive, friendly community, we knew it was the right home for me. If this sounds like a little slice of heaven on earth to you, take a look and consider joining us."
Rick C., Lisa S., and Elijah
Rick works as a school psychologist and has a passion for supporting student strengths and needs as they navigate academic, social-emotional and vocational challenges.  He has worked across all grade levels, but he's currently full-time at the high school level.  Lisa runs a statewide association in WA state that works with small nonprofits that serve very small businesses, especially those entrepreneurs who have been historically marginalized, entrepreneurs with disabilities, rural, as well as thousands of businesses with five or fewer employees.  She is inspired by this work because self-employment can be a powerful strategy to increase income, confidence, live life with purpose and create positive change in the world.
Rick enjoys the quiet of natural settings and the beauty of diverse communities.  He loves hiking, backpacking and fishing.  He also enjoys reading, browsing in bookstores, and traveling.  He is more of a quiet generalist, but enjoys working with groups, wordsmithing, tinkering, and delving into topics around spirituality, ending racism and climate change.  Lisa loves hanging out with her family/friends – hiking, traveling and learning together. One of her favorite interests is policy work in the legislature.  She enjoys playing flute with classical/Irish ensembles and loves traveling abroad. She is committed to using her white privilege to end systematic racism.
Our son, Elijah, is inspired by innovation, beautiful engineering, fine cars, history, current events and amphibious pedal vehicles.  He was diagnosed with Asperger's when he was 16. This diagnosis has helped him and us better understand how to support him, learn from him, engage him and work with him differently.  Our daughter, Albany, just started college out of state in August 2021. She is inspired by space flight, science, social justice, the environment and more. She also loves dogs/cats, surfing and traveling.   We work daily to honor them and their paths.
New Member Bios Coming Soon…
We are:
Artists
Writers
Graphic Designers
Baseball fans
Tech gurus
Financial experts
Musicians
Laughers
Moms and Dads
Singles, couples and families
Long-distance bicycle riders
Gardeners
Change Makers
Dance party fans
Cooks
Storytellers
Game enthusiasts
Joy finders
Readers
Pet owners
Activists
Advocates
Pizza eaters
Bookkeepers
Cocktail shakers
Godmothers
Cider makers
Beer enthusiasts
Music lovers
Sour dough bakers
Movie enthusiasts
Superheroes!